You are here
Tuesday, November 10
Lecture: "Kristallnacht as Turning Point: Jewish Lives and Nazi Policy" by Christopher Fischer, ISU Associate Professor of History
Tuesday, November 10 at 3:30 p.m. in Cunningham Library events room, Indiana State University
Kristallnacht marked not just a night of violence, arson, and terror for Germany's Jews, but a major watershed in both their lives and the policies of the Nazi regime. The regime used the opportunity to tighten the economic stranglehold on Jews and accelerate the pace of Jewish emigration; for Germany's remaining Jews, Kristallnacht's trauma served to hasten the drive to leave the country. Dr. Fischer's talk will thus put the pogrom in its broader context and sketch out how it set the stage for what was to follow.
Event: Coming to See Aunt Sophie, a play written by Arthur Feinsod, ISU Professor of Theater, and directed by Dale McFadden, IU Professor of Acting and Directing
Tuesday, November 10 at 5:00 p.m. and 8:00 p.m. in the Landini Center for Performing and Fine Arts Recital Hall, Indiana State University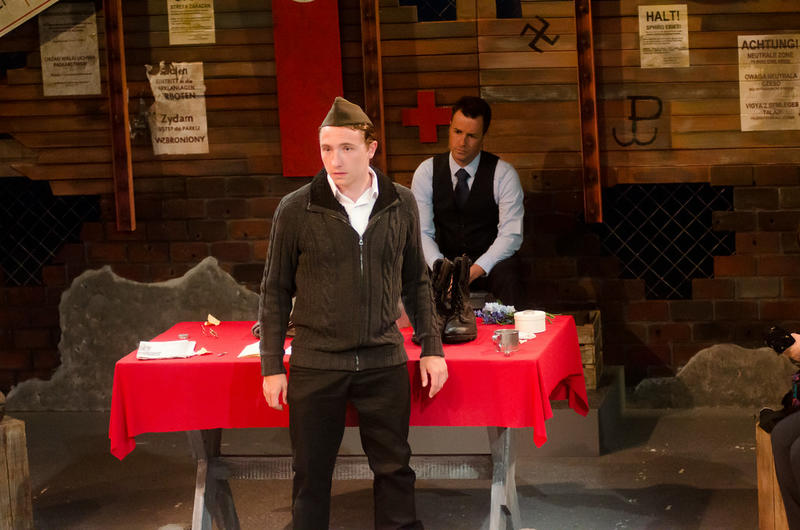 The play is based on the true story of Jan Karski, a humble Polish-Catholic courier for the Underground during World War II, who risked his life many times to alert world leaders about the Nazi persecution of the Polish Jews. With the secret code phrase "Coming to see Aunt Sophie," Karski worked his way through Nazi-occupied Europe, finally ending up in the United States and giving his report in July 1943 to FDR himself.  It is a remarkable story about a man who was a hero to everyone but himself and whose experiences of trying to alert the world and failing to prevent the Holocaust haunted him the rest of his life. This play has been performed in Germany, Poland, Australia, as well as in three American cities and has been translated into Polish and Hungarian.
Event: A concert of reflection performed by Indiana State University Wind Orchestra and guest artists Eric Rohde and Paul Green, conducted by ISU Associate Professor of Music Roby G. George
Tuesday, November 10, 2015 at 7:30 p.m. in Tilson Hall Auditorium, Indiana State University
The special concert will feature an opening performance of the theme from Steven Spielberg's epic film, Schindler's List, performed by faculty with guest violin soloist, Erik Rohde. Also in the program is the composition Night by Robert Rumbelow, based on impressions evoked by the novel Night by 1986 Nobel Peace Prize winner, Elie Wiesel. The first half of the program ends with a performance of Scott McAllister's Black Dog, featuring clarinet soloist Paul Green. Mr. Green, a Jewish-American artist, performs the second half of the concert with a faculty jazz ensemble led by pianist John Spicknall, with music based on the klezmer style.